Our Firm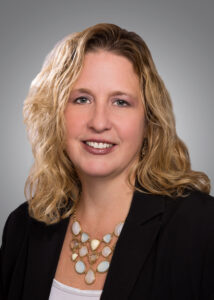 Christina M. Reger is the founding partner of the Law Offices of Christina Reger, LLC, a woman-owned firm. Tina handles litigation and counseling matters related to labor and employment for corporate, entrepreneurial and start-up enterprises.
Tina regularly counsels businesses on how to comply with the barrage of new employment laws, regulations, opinions and guidance from federal and state agencies. She prepares executive contracts, independent contractor agreements, non-compete and non-solicitation agreements and severance agreements and conducts employment law audits, including review of employment law policies, analysis of classification of employees and independent contractors, wage and hour issues, and minimum wage compliance.  Tina is a regular keynote presenter both regionally and nationally on employment law topics and legal ethics including employee classification, discrimination, and retaliation and she frequently conducts sexual harassment training to organizations of all sizes including proper complaint procedures, complaint handling and most recently all types of COVID-19 issues from mask and vaccine mandates of OSHA and other regulatory complaints.
Tina also has extensive experience in a variety of employment law litigation matters including business divorces, breach of employment contract disputes, unfair competition, discrimination and harassment, enforcement of restrictive covenants, business divorces and a wide variety of other general commercial litigation matters. She represents employers in both federal and state courts as well as in agency proceedings including the federal and state Departments of Labor, Equal Employment Opportunity Commission (EEOC), Pennsylvania Human Relations Commission (PHRC), and state unemployment agencies. Tina also assists clients in business formation including LLC registrations, creation of operating agreements, alternative dispute resolution and litigation involving partnership dissolutions.
In response to the #MeToo movement, Tina developed an interactive training program on sexual harassment and trains employees based upon their experience and understanding.  She has published articles in SHRM and the Philadelphia Business Journal and the Legal Intelligencer.
In addition to the sexual harassment training described above, Tina is a regular presenter at seminars on employment law topics and legal ethics for the U.S. Small Business Administration, the National Business Institute, the Pennsylvania Bar Institute, the Pennsylvania Institute of Certified Public Accountants, the Pennsylvania Society of Tax and Accounting, SCORE, local trade organizations, and Chambers of Commerce as well as providing training to corporate clients of all sizes on a variety of employment law issues.  She is the President-Elect of the National Association of Women Business Owners, Greater Philadelphia Chapter.  This year, Tina was named a Pennsylvania Trailblazer by the Legal Intelligencer. I n 2019, Tina received an award by the YWCA Salute to Women Who Make a Difference.  She was named an Emerging Leader by the Bucks County Courier Times, The Intelligencer, and the Central Bucks Family YMCA in 2017.  In 2016, she was named a Best Attorney in Business in Employment Law by Philly Biz Magazine and honored as a Brava Winner by Smart CEO.  In 2013, she was named a Rising Star by Pennsylvania SuperLawyers.
Tina is active in her church and community and enjoys time with her loving husband and two boys.
Accomplishments
Bar Admissions
Commonwealth of Pennsylvania
State of New Jersey
U.S. District Court, Eastern District of Pennsylvania
U.S. District Court, New Jersey
U.S. Court of Appeals, Third Circuit
U.S. District Court, Northern District of Illinois
U.S. Supreme Court
Opinions
Federal Court Cases
ESIS, Inc. v. Coventry Health Care Workers Comp., Inc., 2016 WL 913109 (E.D. Pa. Mar. 9, 2016).
Pedro v. Office For Dispute Resolution, CIV.A. 11-777, 2012 WL 5586582 (E.D. Pa. Nov. 14, 2012).
Chirik v. TD BankNorth, N.A., CIV.A.06-04866, 2008 WL 186213 (E.D. Pa. Jan. 15, 2008).
In re Olympus Healthcare Grp., Inc., 352 B.R. 603 (Bankr. D. Del. 2006).
State Court Cases
Sun Pharm. Indus., Inc. v. Core Tech Sols., Inc., A-0646-11T4, 2013 WL 1942619 (N.J. Super. Ct. App. Div. May 13, 2013).
Interstate Realty Mgmt. Co. v. Cmty. Realty Mgmt., Inc., A-1747-07T2, 2009 WL 77967 (N.J. Super. Ct. App. Div. Jan. 14, 2009).
MacKinnon v. MacKinnon, A-5992-05T4, 2007 WL 543061 (N.J. Super. Ct. App. Div. Feb. 23, 2007), aff'd, 191 N.J. 240, 922 A.2d 1252 (2007).
Burg v. Burg, A-6378-04T1, 2006 WL 3345294 (N.J. Super. Ct. App. Div. Nov. 20, 2006).
Palmieri v. Palmieri, 388 N.J. Super. 562, 909 A.2d 1138 (N.J. Super. Ct. App. Div. 2006).
Brooks v. Brooks, A-5784-04T3, 2006 WL 1972018 (N.J. Super. Ct. App. Div. July 17, 2006).
Gordon v. Rozenwald, 380 N.J.Super. 55, 880 A.2d 1157 (N.J. Super. Ct. App. Div. 2005).
Levine v. Levine, 381 N.J. Super. 1, 884 A.2d 222 (N.J. Super. Ct. App. Div. 2005).
Publications
Christina M. Reger, Esq. and Robyn Forman Pollack, Esq., When Will D&I be as Important as P&L to Law Firms?, The Legal Intelligencer, expected release Sept. 2019
Christina M. Reger, Esq. and Robyn Forman Pollack, Esq., Philadelphia Executives: Consider the hidden cost of sexual harassment, Phila. Bus. J., Sept. 28, 2018
Christina M. Reger, Esq. and Robyn Forman Pollack, Esq., #METOO or not us: Change your company's culture before its too late, Phila. Bus. J., Jan. 23, 2018
Christina M. Reger, Esq. and Robyn Forman Pollack, Esq., Workplace Harassment, #METOO or not us, Where does your company come down on preventing and addressing sexual harassment? SHRM online, Nov. 13, 2017 available at https://www.shrm.org/resourcesandtools/hr-topics/employee-relations/pages/viewpoint-me-too-or-not-us.aspx
Christina M. Reger, Esq., Let's Swap Copyright for Code: The Computer Software Dichotomy, Loy. LA Ent. L. Rev., 2004
Interviews for Articles
Karina Michel Feld, How Attorney Christina Reger Tackles the Extreme Work Life Balance of Being A Woman Business Leader During COVID-19, Authority Magazine, Sept. 3, 2020, available at https://medium.com/authority-magazine/how-attorney-christina-reger-tackles-the-extreme-work-life-balance-of-being-a-woman-business-573489301544
Attorney Christina M. Reger: 5 Things I Wish Someone Told Me When I First Became An Attorney, Authority Magazine, July 7, 2020, available at https://medium.com/authority-magazine/attorney-christina-m-reger-5-things-i-wish-someone-told-me-when-i-first-became-an-attorney-b77546275700
Eric Devlin, Creating a Culture of Empowerment: Advice for Employers in the #METOO Era, Scope, IACC, Vol. 51, N. 2, p. 1.
Memberships/Board Appointments
National Association of Women Business Owners, 2014 – present, National Nominating Committee 2019, Executive Committee –President Elect Greater Philadelphia Chapter, Creator and Director of Semi-Circle Program, 2017-present
Society of Human Resource Management (SHRM), Member and Speaker
Professional Society of People and Strategy
Forum of Executive Women, Member
Your Executive Roundtable, Executive Committee, Membership Chair
American Bar Association, Member
Pennsylvania Bar Association, Member, Women in the Profession Committee, ADR Committee Member
New Jersey Bar Association, Member
Philadelphia Bar Associations, Member, Labor & Employment and Women in the Profession Committee
Professional Recognition
The Legal Intelligencer Trailblazer Award, 2020
YWCA Salute to Women Who Make a Difference Awards, 2019
NAWBO Board Member of the Year, 2018
Bucks County Courier Times and Intelligencer Emerging Leader Award, 2017
SmartCEO Brava! Award, 2016
Philly Biz Best Attorneys in Business – Business Litigation and Employment & Labor, 2016
Super Lawyers Rising Stars, 2013