Employment Law Counseling and Compliance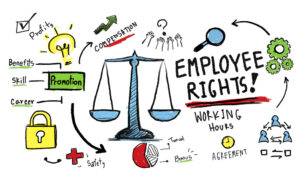 The firm focuses on providing proactive counseling and compliance to employers of all sizes.   We regularly counsel businesses on how to comply with the barrage of new employment laws, regulations, opinions and guidance from federal and state agencies.
We also prepare executive contracts, independent contractor agreements, non-compete and non-solicitation agreements and severance agreements and conducts employment law audits, including review of employment law policies, analysis of classification of employees and independent contractors, wage and hour issues, and minimum wage compliance.
We also assists clients in business formation and dissolution including LLC registrations, creation of operating agreements, alternative dispute resolution and litigation involving business divorces and partnership break-ups.
We offer a wide variety of payment arrangements including flat fee pricing, monthly bundled packages and hourly rates depending on the services requested.
Customized Handbooks
We provide a customized handbook to each client at a flat fee price.  The handbook includes policies applicable to the client based on their size and geographic footprint and the laws that such footprint triggers, i.e. PA, NJ, DE, Philadelphia to name a few.
Our process works as follows:
We have an initial call with the client to discuss their company and culture, as well as their future plans so that we can encompass any policies that may trigger as a result of growth (i.e. for example, if the company has 10 employees but looks to hire this year, we would recommend including ADA policies, but discuss with the client what obligations that entails even if they do not have 15  employees).
We review and incorporate any existing documents, policies that the client has, including new hire documents already in existence.
We obtain jpegs of the company logo and color scheme to incorporate that into the book.
We ask the client if they wish to write a welcome note or discuss their welcome sentiments to incorporate into the front of the book for a personalized feel.
We review all necessary policies as mentioned above that should be included in the book.
We discuss optional policies that the employer may want to include time to vote, time to get the vaccine, etc.
We discuss vacation, sick and PTO policies and discuss which is best for the employer and why.
We then provide a draft to the employer to review with any remaining questions and jump on a call to complete the remaining edits/revisions.
We provide a comprehensive, personalized handbook to the client.